Pan-Pioneer promote our variety of portal type payoff / takeup stands for our customer with proud. Starting from loading bobbin size of 200mm up to 4000mm diameter reels , pan-pioneer offer the most suitable for different applications.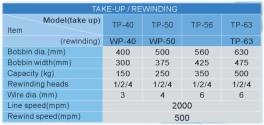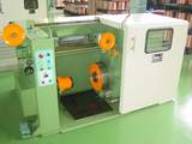 The first one is the traditional and popular model : shaft-less payoff take / take up stand. Or bare wire rewinding cable and wire machine. The advantage of this model can be seen the simplicity of design for easy operation and maintenance. You can useas portal type payoff / takeup as for either wire drawing cable and wire machine ( with a dancer) or portal type payoff / takeup tension-controlled payoff stand for extrusion line. Simple design portal type payoff / takeup means low cost , portal type payoff / takeup for budget buyers, this is one of the most suitable model for them.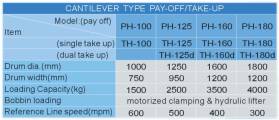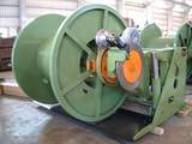 The second one is what we called ˇ§cantileverˇ¨ type payoff / takeup stand, Just like its name, the reel is lift up by a hydraulic system which is fully automatic operation since the cantilever will lift-up / put-down the reel by a portal type payoff / takeup hydraulic system and clamping by a motor driven system For instance , it will lift-up / put-down the clamped reel until to its up-most / ground position while the reel is empty / fully-loaded . The movement of this cable and wire machine is limited by a positioning sensing system for protection and security . A 4-way joystick is equipped for easy operation. Traversing speed is adjustable automatically corresponding to the takeup rotating speed. This model is most suitable for ˇ§mid-rangeˇ¨ reel applications . The most suitable range is from 800mm up to 2000mm reel with maximum 6 ton lift weight for standard (can increase the lift weight if necessary).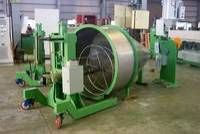 For a non-stop operation which is manufacturer favorite , you need utilized on of the following models

ˇ§More stop means more scribe wastesˇ¨ .This is manufacturer most unlikely to see, for extrusion line , especially. For high speed ,mass production condition, a dual-cone payoff is the best choice for small bare-stranded wires as a payoff device of an extrusion line. By using this device , the extrusion can be fed core conductor which is rewound in bobbins continuous by connecting the end of one bobbin wire to the beginning of the other bobbin. By doing this , Cone type payoff stand can be regarded as a non-stop single wire provider which a normal single wire payoff cannot do . The other application dual cone payoff stand can reach is acted like two sets of normal single wire payoff stands which can feed two wires to extrusion line at the same time for some applications, such as power cores, control cables , etc.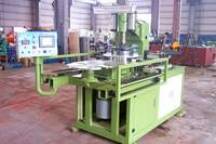 Continuous payoff system need a non-stop takeup stand to match the maximum performance . The first choice is auto coiling cable and wire machine. This cable and wire machine is for final products packaging. By using autocoiler , operator can rewind the cable into ˇ§coilsˇ¨ for market selling. Operator can set the length / weight of each coil he want to make and autocoiler will take care the rest of the job. Since it is a non-stop takeup stand, one operator is need for wrapping / binding each coming coiler( standard model) or let the cable and wire machine do all the job , even put it on the palette itself ( fully automatic model) for labor-cost saving.
Autocoiling cable and wire machine are one of the most popular coiling making cable and wire machine in Asia.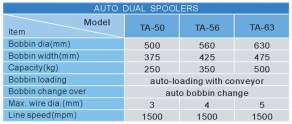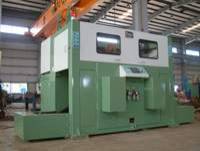 The alternative of the non-stop takeup stand is Dual spooler cable and wire machine with auto-change functionality. Not like autocoiler showing above ,this cable and wire machine is rewind the product on ˇ§reelsˇ¨ therefore it is most suitable for intermediate process of cable production process. This model is equipped with a auto-change over system which can change over the takeup reels while another is to it full length. Except this functionality , Dual spooler is equipped with a caterpillar at each side of cable and wire machine for loading/unloading reels during operation. To synchronization of inline real-time operation , this cable and wire machine utilize special communication protocol named ˇ§Mod Busˇ¨ which is a high speed and industrial standard protocol , PLC communicate with the driving motor device (such as DC motor drive or AC motor inverter) for eliminating the noises which traditional analogue signal suffer from..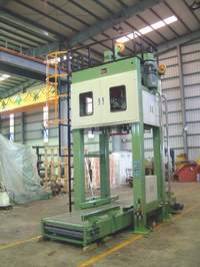 The other commonly used non-stop takeup stand is Static coiler. For High capacity load and the convenience for the following process. This is the best choice for bare wire (copper wire especially) manufacturing.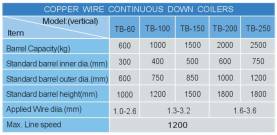 Pan-Pioneer Static coiler is equipped with a conveyor which can load 3 baskets at the same time, one basket is fully loaded and another is during operation and the last one is a empty for standby. This model is fully automatic with a length counter, Operators no need to standby beside this cable and wire machine for basket change over , when the basket has reached its full length ( set by operator) , a special device will hold the dropping wire temporarily until the basket change-over is complete. With this convenient tool, no need for operators standby for this cable and wire machine. .
.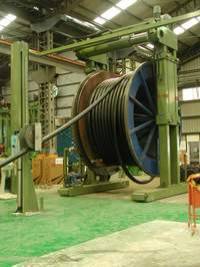 For heavy loading cable takeup / payoff , portal (floor) type is the most economic cost/performance devices for cable maker.
Not like the old-fashioning ˇ§Gate typeˇ¨ model , Portal takeup / payoff is like a successor with a much lower cost and refined design then it predecessor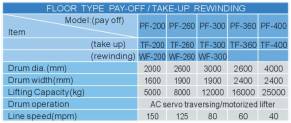 Compare with its predecessor , portal model inherit all the functionalities with amendments. For instance, portal type is much low cost , save space , and still keeping the merits of Gate type cable and wire machine. Equipped with a self-centering device in front , Portal type cable and wire machine can keep cable straight all the time during operation. This merit is very important for ˇ§big sizeˇ¨ cable for bending avoided.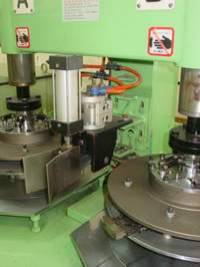 Pan-Pioneer keep developing more advanced, higher efficient , and more easy-operation devices for cable industry. This photo shows our latest design : Dual head auto-coiling cable and wire machine or Autocoiler. This cable and wire machine is to eliminate the time waste of traditional autocoiler during the ˇ§operation circleˇ¨. For the traditional single head autocoiler , production speed is limited by the autocoiler rewinding speed because it need about 10 secs plus rewinding time for one complete operation circle, the 10 seconds become the bottle neck of the whole production efficiency. That is why Pan-Pioneer develop a two coiling head autocoiler to save the precious ˇ§10ˇ¨ seconds, The proto type of this cable and wire machine has been complete already with a great success.
Because of the design concepts, this cable and wire machine is for high speed (500mpm and up) , 500M / coil application only. Using this cable and wire machine as a traditional autocoiler is a huge waste of your investment.
ˇ@